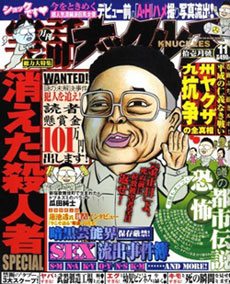 Tibet! Land of the Gods! Where you can take in the majestic Himalayas while getting high on the oxygen-depleted air. Have your picture taken astride a yak in front of the Dalai Lama's palace. Haggle for curios in the marketplace. Eat tsampa and yak butter. Tour a lamasery, and spin prayer wheels while chanting mantras. Or, go unwind in a Japanese-style soapland.
Yep, reports Jitsuwa Knuckles (November), the "roof of the world" is fully equipped to service men with an urge, for a correspondingly high price of 800 renminbi (about 12,000 Japanese yen).
But the reporter discovers to his initial disappointment that the gals toiling at this particular establishment, whose name is not given, are not native Tibetans, but rather Han Chinese who hail from neighboring Sichuan or Yunan Provinces. Indeed, not a single Tibetan lass is to be found on the premises.
According to the local guide, Tibetan girls, mostly between ages 15 to 18, can be found for rent, and are actually in high demand by male visitors from China. Most of the Tibetans are apparently sold into the life from remote villages in the hinterland.
Expecting nothing more than a conventional sauna, Jitsuwa Knuckles' reporter was at least pleased to see that the private room for his encounter was equipped with a fragrant Japanese-style wooden tub made from hinoki (cypress). After a satisfying dip and scrubdown, he relaxed on the bed, upon which he was advised that for twice the normal outlay, the shop would gladly arrange for him to cavort in a "3P" threesome. He politely refused, but nonetheless came away impressed. Even on a visit to this stark and remote land, Japanese males need not forego the comforts of home. (K.S.)
Source: "Chibbeto de soopuranndo hakken!" Jitsuwa Knuckles (Nov., 2008, pages 60-61)
Note: Brief extracts from Japanese vernacular media in the public domain that appear here were translated and summarized under the principle of "fair use." Every effort has been made to ensure accuracy of the translations. However, we are not responsible for the veracity of their contents. The activities of individuals described herein should not be construed as "typical" behavior of Japanese people nor reflect the intention to portray the country in a negative manner. Our sole aim is to provide examples of various types of reading matter enjoyed by Japanese.