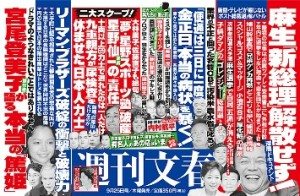 In its "Shukujo no Zasshi Kara" column that excerpts from women's magazines, Shukan Bunshun (Sep. 25) introduces this gem from the July issue of Ai no Taiken Special Deluxe.
"I am abnormally hairy down there," the anonymous contributor confides. "And the hairs are so stiff, they even protrude through the material of my panties."
Due to a complex over her luxuriant bush, she had refrained from sex. But she recently became friendly with a guy and the two felt the tug of mutual attraction. However at the moment of truth, she was overcome with shame and unwilling to go all the way.
When he asked the reason for her reluctance she tearfully told him. His reaction was to say, "Hey, I'm pretty hairy too," and he tugged down his briefs and gave her a peek.
"I was amazed," she says. "He was even hairier than me. He had a veritable jungle down there."
"Being so shaggy himself, he assured me he had absolutely no problem with seeing mine, and went so far as to gently perform cunilingus on me," she writes. "As partners who have to cope with the same dilemma, it looks like we'll be able to maintain a good relationship."
A happy ending indeed. And the moral of her story? "If you want to conceal hair, hide it in a thicket." (M.S.)
Source: "Shukujo no zasshi kara," Shukan Bunshun (Sep. 25, page 102)
Note: Brief extracts from Japanese vernacular media in the public domain that appear here were translated and summarized under the principle of "fair use." Every effort has been made to ensure accuracy of the translations. However, we are not responsible for the veracity of their contents. The activities of individuals described herein should not be construed as "typical" behavior of Japanese people nor reflect the intention to portray the country in a negative manner. Our sole aim is to provide examples of various types of reading matter enjoyed by Japanese.