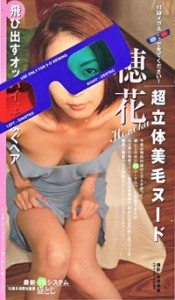 Much to Al Gore's chagrin, a story in the August 4 issue of Shukan Taishu debunks the effects of global warming. ("The polar ice is melting, but how come the oceans aren't rising?" it asks.) The weekly then proceeds to raise Japan's ambient temperature, with a steamy "summer heat-up special issue" that includes nude photos of 20 Korean cuties, a tale about nurses who secretly engage in prostitution while on hospital premises, and a nostalgic look back at two decades of extramarital affairs by female TV announcers.
What sets this week's Shukan Taishu apart from its competitors is that each issue is supplied with 3-D viewing "glasses" — imported from the U.S., according to a notation on the paper enclosure. While holding the viewers over their eyes, readers are invited to ogle at photos of a model known as Honoka in a special tear-out section. Honoka's bio data is rather sketchy, noting on page 98 that her date of birth is June 20, 1983; that she stands 156 centimeters tall; and that her vital measurements are 85-56-85. Holding the 3-D viewers over the photos does makes certain things appear to pop out more prominently. A great pick-me-up for those on a tight budget, at just 360 yen a copy.
Note: Brief extracts from Japanese vernacular media in the public domain that appear here were translated and summarized under the principle of "fair use." Every effort has been made to ensure accuracy of the translations. However, we are not responsible for the veracity of their contents. The activities of individuals described herein should not be construed as "typical" behavior of Japanese people nor reflect the intention to portray the country in a negative manner. Our sole aim is to provide examples of various types of reading matter enjoyed by Japanese.