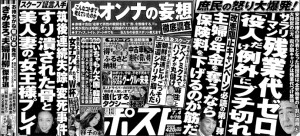 Seen scurrying through the Yoshiwara red-light district on a recent weekday afternoon at around 2:00 p.m. were a number of men, aged perhaps between 60 and 70.
With a notepad and smartphone in one hand, each entered one of the many soapland bathhouses clustered along the area's streets.
"The number of older guys is on the rise," the owner of one bathhouse tells Shukan Post (July 4). "I think it is because there has been a decrease in the number of overly aggressive street touts."
With an eradication drive possible prior to the 2020 Olympic Games, soapland operators are cleaning up, so to speak.
"For the Asia-Pacific Economic Cooperation meeting (in 1995) and the International Garden and Greenery Exposition (5 years before), soapland bathhouses in Osaka were wiped out," says the aforementioned owner. "So now shops are making sure that customers do not register complaints. They are exhibiting self restraint and not allowing aggressive touting in the street, and the impact is being felt in Yoshiwara and beyond."
The first soapland bathhouse was established in Tokyo's Higashi Ginza district in 1951.
The soapland, whose crucial difference from other erotic businesses is the offering of full sex, spread nationwide — in such well-known red-light districts as Kanazuen, Fukuhara, Susukino, Nakasu and Yoshiwara — and peaked in popularity three decades later with the rise of the asset-inflated "bubble" economy.
Yoshiwara is presently facing hard times as a dichotomy has unfolded in pricing: some high-end joints are making a killing while lesser establishments are being forced to drop prices to drop prices to remain competitive.
The magazine feels that services emphasizing omotenashi (hospitality) will do for the soapland industry now what it did two decades ago.
Adult-entertainment (fuzoku) writer Tetsuma Yamada says that high-end shops in Yoshiwara are now emphasizing an atmosphere suitable for lovers, a space where one can easily spend time and pleasant conversation. "In short, omotenashi," says Yamada.
Emphasis is not being placed on the face, figure and technique of the "foam princesses" (awa hime) at shops.
"Graduates of vocational schools trained as secretaries have become number-one girls at shops in Yoshiwara," says Yamada. (K.N.)
Source: "'Awanomikusu' de soopu-gai ga sugoi koto ni natte iru," Shukan Post (July 4, pages 146-147)
Note: Brief extracts from Japanese vernacular media in the public domain that appear here were translated and summarized under the principle of "fair use." Every effort has been made to ensure accuracy of the translations. However, we are not responsible for the veracity of their contents. The activities of individuals described herein should not be construed as "typical" behavior of Japanese people nor reflect the intention to portray the country in a negative manner. Our sole aim is to provide examples of various types of reading matter enjoyed by Japanese.