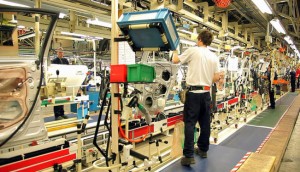 TOKYO (TR) – The falling yen helped boost Japanese exports 1.1 percent in March from a year earlier, Bloomberg News reported, citing figures released by the Finance Ministry.
Economists surveyed earlier by Bloomberg estimated a 0.2 percent increase. The yen was trading at 98.03 at 2:22 p.m. on Thursday and is down nearly 20 percent against the dollar over the past six months, according to the news agency.
"The yen's weakness has been supporting Japan's exports," Bloomberg cited Long Hanhua Wang, an economist at Royal Bank of Scotland Group in Tokyo, as saying. Wang remained guarded that the increase was a sign the nation's exports are set for a "full-fledged rebound," the Bloomberg report said.
Japan's trade deficit also narrowed from the previous month to 362.4 billion yen ($3.70 billion) compared to the 777.5 billion yen reported in February, though it remains four times larger than a year earlier, according to Bloomberg.
Japan is importing more fossil fuels to make up for the shortfall in nuclear energy output that resulted from the shuttering of the nation's nuclear power plants after the March 11, 2011 Fukushima disaster; the weaker yen means those imported fuel costs are higher.
Source: Bloomberg
Photo source: Toyota UK on Flickr