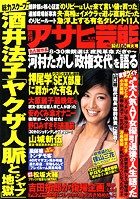 It goes without saying that the life of a fuzoku-jo (female sex worker) is no bowl of cherries. On top of the risk of contracting sexually transmitted diseases, a lot of clients they service are disgusting, scary or just plain weird.
Shukan Asahi Geino (Aug. 27) gets some of the gals to open up about their more unpleasant experiences.
Apparently customers with rank body odor rank near the bottom of everyone's list.
"There are some customers who always bring a gift to the popular gals when they come," says the manager of a massage shop. "The type that's most welcome are those who are physically clean. On the other hand, the least popular are the stinky types. A few try to mask their body odor with deodorant. The worst of all are those who seem to have no awareness of their own smell. They'll lie facing upwards on the massage table with their hands locked behind their heads, and the stink just comes reeking out from their armpits."
At times like this, the young women — who no doubt are practicing shallow breathing at this point — pray to themselves, "Oh lord, at least let him put his arms at his sides."
And if you're looking for a truly weird experience, then Maria Misono, an SM queen at Tokyo Mirage in Shibuya, has got a real doozy for you.
"When I walked into the play room, I saw this guy in his 40s," she recalls. "Sitting there next to him was his mother! Who said to me, 'Kyo wa uchi no musuko wo yoroshiku (please take good care of my sonny boy).' Then she got up and left the room.
"I gave that naughty boy a thorough kotoba-zeme (scolding) and a hard spanking on his bottom. Afterward, the mother phoned him on his mobile and asked to be put through to me. 'How was my sonny boy?' she asked me. I told her, 'Uh, he was fine — held up a lot better than I expected.'"
The article notes that "sonny boy" did not blow his top during his SM session.
Probably he's saving it for mom, after he gets back home, Shukan Asahi Geino suggests.
Source: "Atashi ga deatta kyofu no tondemo kyaku," Shukan Asahi Geino (Aug. 27, page 190)
Note: Brief extracts from Japanese vernacular media in the public domain that appear here were translated and summarized under the principle of "fair use." Every effort has been made to ensure accuracy of the translations. However, we are not responsible for the veracity of their contents. The activities of individuals described herein should not be construed as "typical" behavior of Japanese people nor reflect the intention to portray the country in a negative manner. Our sole aim is to provide examples of various types of reading matter enjoyed by Japanese.