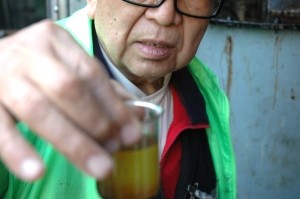 TOKYO (TR) – With the deadline of 1997's Kyoto Protocol approaching, Japan's overall carbon emission figures don't look promising. At the conclusion of fiscal 2006, Japan discharged the equivalent of 1.36 billion tons of carbon dioxide — 7.8 percent over 1990's levels — which is a staggering number considering the goal is a reduction of six percent. Small upstart industries, however, are attempting to make a difference.
Perhaps having the best near-term prospects is solar power, in which photovoltaic (PV) modules collect energy from the sun to convert into electricity. Japan is the world's largest PV producer, but with China's exceptional growth in recent years it is expected to take over the top spot in 2008.
One of Japan's biggest solar projects is contained within the grounds of the Asaka water treatment plant in Saitama Prefecture. Installed by the Tokyo Metropolitan Government, the PV panels, which take up an area the size of two football fields on the roof of the facility, generate 1.2 megawatts of power.
Less conspicuous are the roughly 100 panels installed in public areas by the city of Yokohama. At Center Minami Station, for example, passengers moving through the plaza to ride the Yokohama subway are likely unaware that many of the lights are fueled by rectangular panels on top of each light's aluminum pole. Yokohama officials estimate that their system collectively removes the equivalent of two tons of carbon dioxide from the atmosphere annually.
Experts have said that Japan, whose contribution to carbon dioxide emissions is the fifth largest in the world, was maybe too ambitious. Its six percent reduction target is only one percent below that of the world's biggest emitter, the United States, which didn't ratify the treaty.
For private use, the Japanese government has indicated that it is aiming for 30 percent of households, or 14 million homes, to have a solar system installed by 2030—a plan that would make a dent in household emissions, which have increased by almost 40 percent since 1990.
Hoping to make that target a reality are companies like Kyoto-based Kyocera. The manufacturer is lowering prices for a home system, which today costs two million yen (down from three times that in the early 1990s), but maintains that the reinstatement of a subsidy by the government—stopped a few years ago—is important. "Our current target is for a one-million-yen, three-kilowatt system," says Isao Yukawa, an advisor at Kyocera. "When the government has a proper subsidy program in place to support that price range, their target could be achievable."
An ample supply of key materials, like silicon and glass, will also play a key role, explains Yukawa. Analysts agree, adding that this year looks especially attractive considering that a likely drop in demand for semiconductor products could free up high-grade silicon for use in PV panels. "It appears that all the pins could be lined up for a parabolic increase in solar cell usage in Japan," says David Rubenstein, equity research senior analyst at Jefferies Japan.
Also set to make homes more eco-friendly are hydrogen-fed fuel cell systems. Tokyo Gas and Panasonic are offering a product slightly larger than an air-conditioning unit that generates electricity and heat (for a water heater) through a chemical reaction between hydrogen derived from natural gas and oxygen from air to make water. In addition to providing cost savings over conventional electrical systems, carbon dioxide emissions are much less. With prices running at around ¥1 million, more than 2,000 systems are in place already. The government expects 25 percent of all homes to have similar setups by 2020.
For vehicles, cleaner fuel is being provided through the recycling work of companies like Someya Shoten Group, whose three affiliated companies work together in Tokyo's Sumida Ward to convert used cooking oil into diesel fuel. Delivery trucks arrive with cans of used oil from tempura shops and other restaurants at a station where the raw product is put through its first refinement step. The liquid is then transferred to a nearby factory, where steam hisses and alarms buzz as it goes through yet more refining and filtration processes. The finished product eventually drips into blue plastic drums at a rate of 1,000 liters per day.
"The summer season is so busy with all the outdoor parties," says the chairman of the company, Takeo Someya, standing on the slippery floor of his factory. "But it also sometimes happens that demand will be very high from our purchasers." For a week ending in early April, the company boasted of collecting nearly 30 tons of oil, which, it says, saved the environment the equivalent of 70,000 kilograms of carbon dioxide.
The used oil is bought for 30 yen per liter from the 200 members registered within the group. The biodiesel product, whose production and combustion emits less carbon dioxide than fossil fuels, is sold for 130 yen (or slightly more if blended with regular diesel) to the same members (licensing restrictions necessitate this sort of arrangement). "When we started 20 years ago," says Someya, "regular oil was so cheap that there was no need to recycle used cooking oil. We wanted to create a new way."
At the community level, non-profit organizations like Edogawa Yuden are also promoting the use of biofuels. The group's glossy brochure shows photos of trucks, powered by tempura oil, motoring through Tokyo's Edogawa Ward next to images of the white sands and palm trees of the Pacific island nation of Tuvalu, said to be under threat from rising sea levels as a result of climate change.
But in spite of these efforts and the pioneering charge of Toyota and Honda with regards to fuel-efficient, gas-electric hybrid vehicles, the transport sector has lagged in reducing emissions. Reports have shown the sector to be exceeding the emission levels of 1990 by more than 20 percent.
Much like they do for the home, fuel cells might help—but not anytime soon. At a seminar in March, representatives from Honda, Toyota and Nissan announced that by 2015 fuel-cell vehicles, which, like their home-use brethren, combine hydrogen and oxygen to form electricity, would be feasible for the auto market. Until then, costs will have to be reduced and durability and efficiency improved.
Note: This article originally appeared as a part of the feature for the June issue of iNTOUCH, the magazine of the Tokyo American Club.